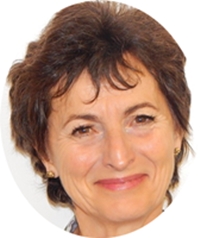 BIO FREQUENCIES FOR PAIN RELIEF ... when nothing else helps
Anna Larking trained as a diagnostic radiographer at the Middlesex Hospital in the 1970s. In 1996 she studied diagnostic ultrasound at City University while working as radiographer and sonographer in the multi-disciplinary team at the Royal Hospital for Neuro-Disabilities, delivering a holistic care to the most complex patients. During this time she was also a visiting lecturer at Hertfordshire University and sonographer at the Royal Marsden Hospital.
Her training includes Shockwave Therapy which she learnt in Germany and can be applied to conditions as diverse as breaking kidney stones, healing wounds and chronic tendinopathies such as tennis elbow, plantar fasciitis, etc.
Anna's clients have included sports professionals and members of a National Ballet Company. She is a highly regarded professional who has presented a number of papers at international conferences and published in peer's review journals.
More recently she has been traveling to Spain and developed her skills to include Bio-Frequency Therapy. She is currently focussing her work and research on the remarkable healing potentials of Amino-Neuro-Frequency (ANF) a type of Bio-Frequency Therapy which is particularly well suited to address the complexity of chronic conditions involving pain, weakness and fatigue.
You can This email address is being protected from spambots. You need JavaScript enabled to view it. or call her on 07906 689 479